On July 11, 2019 at Wishing Tree Resort, Khon Kaen, Learning and Teaching Innovation Center, Khon Kaen University held training session on digital material for education planning and management for staff in charge of producing e-learning and other materials. Asst. Prof. Denpong Soodphakdee, Acting Vice President for Digital University Development, presided over and there were over 50 participants who were supporting staff of material production network. 
    The training session on digital material for education planning and management was organized with objectives to educate staff about how to produce educational material properly and effectively and to be able to plan to produce digital materials for education so that lecturers can use effectively that will lead to better learning and teaching process in KKU.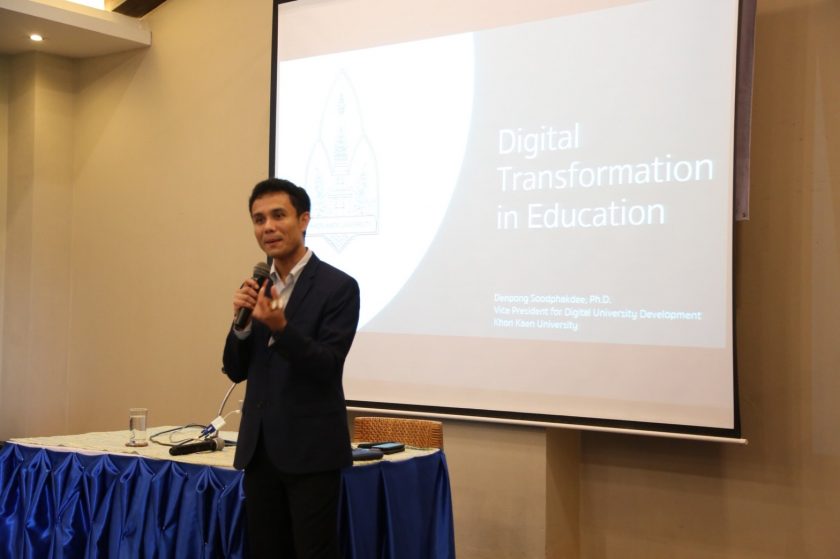 Asst. Prof. Denpong Soodphakdee said that advanced technology has changed learning style of young generations dramatically, especially online learning. Learning habits of many people these days are different, that is, they prefer to personalized lessons for themselves. In this case, technology will play significant role.  
    "Fast changing technology and transformation in digital age, which KKU sees importance, are the reason of this training session by Learning and Teaching Innovation Center. We aim to help our staff understand and have digital skill used for learning and teaching management based on learners' interest as well as potential, to enable them to plan digital material production for lecturers effectively, to enhance quality of learning and teaching which can result in new learning activities – Massive Open Online Courses (MOOCS), videos, or even games. It's a great opportunity for young generations to choose what suits them best, and it can also transform the traditional curriculum to the new paradigm supporting truly learning methods," continued Asst. Prof. Denpong.         
    Mr. Vuttichat Noynarin, an audio-visual technical officer of the Faculty of Science, KKU, was one of the participants. He revealed that this training session had clearly explained all changes about digital transformation occurring at present and in the future. As Asst. Prof. Denpong had emphasized before, staff working on material production of the university needed to keep up with the technological evolution. 
"I'm determined to apply what I've learned today on material production, media for public relations, and teaching materials. I also learned from staff of Communication Affairs Division about processing and communication with the purpose of eliciting content or news for creating videos. The material can be produce more systematically and become more interesting," said Mr. Vuttichat
    The training session was organized on July 11-12, 2019. On  July 11, 2019 there were lecturers on Digital Transformation in Education by Asst. Prof. Denpong Soodphakdee; Current Situation, Lecturers' Need for Material Production, and Problems During Production Process by learning and teaching development staff including learning and teaching supporting staff; and Video Production Planning and Management by KKU Communication Affairs Division staff consisting of Miss Porntip Komdi, Miss Jiraporn Pratomchai, and Miss Rawiporn Saisantong.
    On July 12, 2019 there was a talk lecture on Lecturers' Digital Material Production Planning and Management by Mr. Kilen Tinnoraset, a Senior Professional Level Audio-visual Technical Officer of the Faculty of Science, KKU.