KKU's three faculties—Architecture, Business Administration and Accountancy, and Arts—join hands to help local groceries survive against foreign capitalists.
On July 26, at The Faculty of Architecture's Sim Building, three KKU Faculties—Architecture, Business Administration and Accountancy, and Arts—, hosted a press briefting about a project named, KKU Linkage for SMEs Competitive Competency: Phase 1, which was aimed to help SMEs to gain more competitive power in a changing business world. The project was conducted under collaboration from the three KKU faculties, Khon Kaen Chamber of Commerce, and SMEs from around Khon Kaen. The representatives from KKU who presented at the conference included; Assoc. Prof. Chanchai Panthongviriyakul (M.D.), an acting KKU president, Assoc. Prof. Dr. Kittichai Trairatanasirichai, a former KKU president, Assoc. Prof. Dr. Pensri Chalearnwanit, a Business Administration and Accountancy dean, Assoc. Prof. Chupong Tongkhamsamut, an Architecture dean, Asst. Prof. Dr. Donleutai Kowatanakul, Asst. Prof. Dr. Aree Naipinit, Asst. Prof. Dr. Chamnan Boonyapoothiphong.
The KKU Linkage for SMEs Competitive Competency: Phase 1 has been conducted from the agreement from KKU and Khon Kaen Chamber of Commerce dated on December 8, 2017 to increase the competitive capacity for the Khon Kaen SMEs under the changing world. The program also portrays KKU's commitment on the betterment of the community. The project took 10 months starting from October 2018 to July 2019. KKU was in charge of the development of retail shops and other SMEs shops around Khon Kaen and created database, a listing of the retailers and SMEs that have commercial registration. The shops advised on how to display their products while the interior and exterior renovations for these shops were implemented via the suggestions from the experts from the Faculty of Architecture, The Faculty of Business Administration and Accountancy, and The Faculty of Fine and Applied Arts from KKU. The renovation of the local retailers and groceries was implemented via three sub-projects as detailed below.
Sub-project 1: Need Analysis and Retailers and SMEs Database Establishment: This project under the lead of Asst. Prof. Dr. Donleutai Kowatanakul involves making database of Khon Kaen SMEs which helps obtain information about many kinds of SMEs including; groceries, MICE tourism business, restaurants and hotels, advertisement business, broadcasting, commercial registration service, and banking and leasing business. It was observed with regard to the entrepreneurs' needs that 27 percent, of a total of 145 business operators, reported to have their shops renovated. Despite their insufficient budget, these SMEs needed to expand their business, obtain new products and most of them reported to have wanted their shop to be renovated. The SMEs operators also considered renovating the shops would not be able to give them any returns because these shops lacked of competition power due to the invading of modern convenient stores and the Blue Flag Shops that own a concession of the government voucher to allow people to redeem their tickets in form of certain goods. Due to this inability to compete, many local retailers have been shut down while the remainders have to find other strategy to survive by introducing new types of goods such as bottled gasoline, banner making, and becoming a pay point for utility bills. With regard to the customers' need analysis conducted with a group of 450 participants, it was reported that the morning and the evening were two points of time in a day with the highest purchase. The most common goods were; drinks, basic medicine, crackers, dried and instant food. The type of services provided by the retailers were reported to; have no price tag, have no sale promotion, and have no bargaining. The informants wanted the shops to have more variety of products for sales, better arrangement, and cleaner shops.
Sub-Project 2: Smart Retailers. This sub-project was led by Asst. Prof. Dr. Aree Naipinit. The project helps create a prototype for retailing shops. Based on the problems mention in Sub-project 1, the shops were renovated accordingly. The new renovated shops are tidier, have clear price tags, cheaper price products, have good accounting system and sale promotion. The problems for shop management were corrected and the new goods supplier were made available under this renovation plan. As a result of this renovation, the clients were reported to have had higher level of satisfaction on the service while the owners were able to increase their total sale rate and manage their stocking better.
Sub-project 3: Interior and Exterior Design. Under the lead of Asst. Prof. Dr. Chamnan Boonpoothiphong, this project helps with the design of the good displaying and internal and external design of the shops. The displaying and placing of the goods also take into account the importance of Fengshui. The shop logos were designed and the overall physical overhauling of the shops were implemented. The shops that were renovated by this project included; Pornpra Panit (Sila Sub-district), Sawat Panit (Toom Sub-district), Terdtern Panit (Toom Sub-district), Pilai Minimart (Banpet Sub-district), Komkrit (Nai Muang Sub-district), Thammapreuk (Sila Sub-district), Darunee (Dangyai Sub-district), Nammon (Banpet Sub-district), Panitda Garden (Tha Pra Sub-district), Ton Oy Minimart (Nai Muang Sub-district). These shops are trendsetters for the retailing shops in Khon Kaen.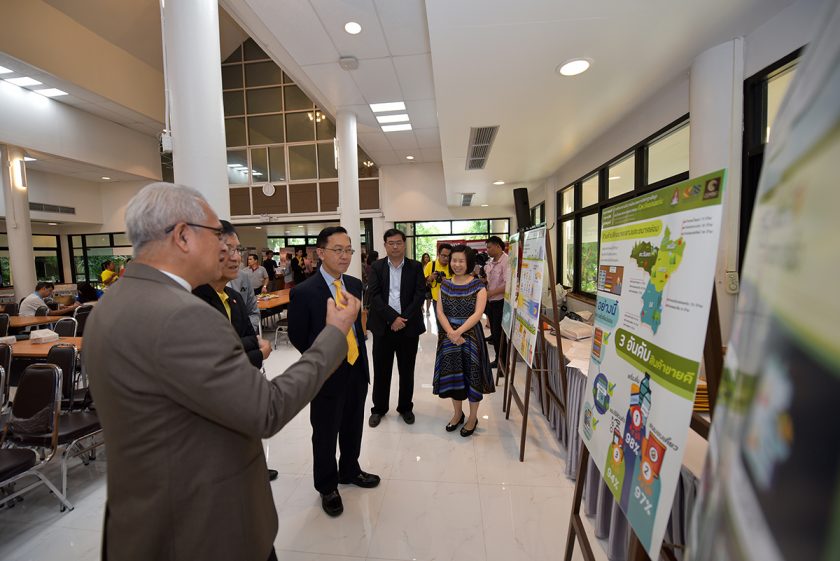 News/Photos: Warunyoo Donnua
[ Thai ]