KKU and MEGA attempt to develop both requisite and non-requisite curricular for students as well as staff to get ready for international concept  
On July 4, 2019 at the Faculty of Business Administration and Accountancy, the Faculty of Business Administration and Accountancy, Khon Kaen University, signed MOU with Macquarie Education Group Australia (MEGA). On this occasion, there were Assoc. Prof. Charnchai Panthongviriyakul (MD), President of Khon Kaen University, and Assoc. Prof. Dr. Pensri Jaroenwanit, Dean of the Faculty of Business Administration and Accountancy presenting on behalf of KKU. On behalf of AIEC Student Services (AIEC), Macquarie Education Group Australia there were Mr. Henry Liu, Chief Executive Officer, MEGA and Dr. Sutida Jackmetha, Director of International Collaboration & Academic Coordinator, MEGA. The objective of this MOU is to develop both requisite and non-requisite curricular for students as well as staff of the two institutes as the source of knowledge acquired by learning from each other such as collaboration of education development or study visit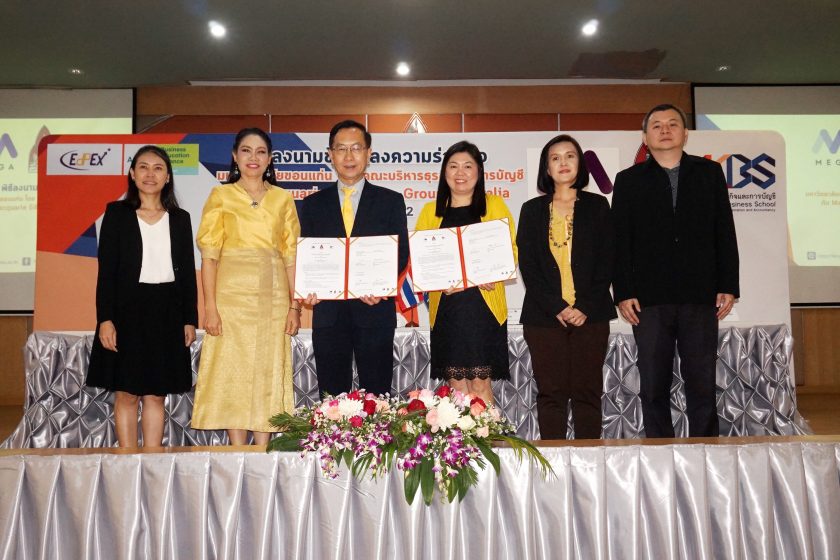 Assoc. Prof. Charnchai Panthongviriyakul said it was KKU's pleasure to have an opportunity to welcome administrators of Macquarie Education Group Australia. Both institutes had collaborated for some time and see the importance of the MOU providing educational benefits. Educational standard in Australia had been widely accepted, and a lot of Thai people decided to study there. Macquarie Education Group Australia was an experienced institute and widely recognized, so the collaboration could result in internationally developed education the university for students and for better educational activities.   
Assoc. Prof. Dr. Pensri Jaroenwanit said that the Faculty of Business Administration and Accountancy saw the importance of the producing and improving business administrators, accountants, and entrepreneurs by providing knowledge which could be applied to the competitive market. The faculty had been determined to develop different curriculum and extracurricular activities for universal standard by having collaboration with international organizations for the exchange of mutual knowledge as well as experience. 
"Macquarie Education Group Australia (MEGA), Australia is an institute recognized by prestigious universities in Australia. It offers English course and Certificate of Vocational Education which emphasize on innovation and making contact for job training in Australia. Collaborating with MEGA can give opportunity to students and staff of the faculty to improve their foreign language skills in the context of business administration and accountancy. They can be ready for job training as well as pursuing their study abroad. Moreover, the faculty's staff can unlock their language potential to get ready for the growth of the faculty in the future," Assoc. Prof. Dr. Pensri Jaroenwanit said in the end.            
News/ photos: Warunyu Donnua / Udomchai Supanavong